You are here | Oia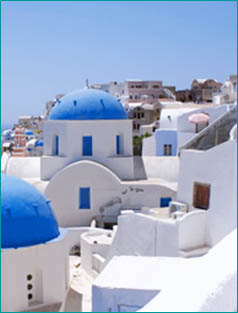 Built on layers of red ash which created by the explosion of the Volcano, Oia abstains from Fira about 12 kilometers. Her
current name, was given during the decade '30 from the Venetian conquerors. it was used to call "Pano Meria".

It often is reported as "the Captains' village" because of its powerful naval force during the 18th and 19th century. The
residents used to be over 13.000! The local salesmen exported their well-known wine in Romania, Russia and Egypt.

The view of Oia lying on the rocks, above the bight "Armeni" and the small port Ammoydi, are the first to see from the ship,
while entering in to the port. The colorful houses, welcome all the visitors.

When first visited, you feel splitted between the volcanic rocks and the vines lyed to the northern of the sea. All around, there is the sense of fairy world...
How to get here
Flying from Athens:
Olympic Airlines: (+30) 210 9666666
El.Venizelos: (+30) 210 3530000

By Ferry from the port of Piraeus
Piraeus port telephone::
(+30) 210 4226000-4,
(+30) 210 4511310-17

Useful telephones
Airport: (+30) 22860 28405
Port: (+30) 22860 22239
Police: (+30) 22860 22659
Health center: (+30) 22860 23123
Bus station: (+30) 22860 25404