You are here | Churches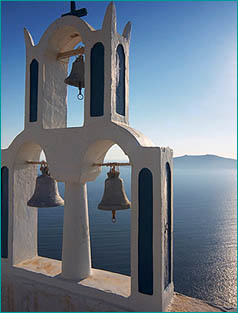 As happens in most Aegean Sea Islands, thus in Santorini everywhere you look, a small church exists, in order to declare the tradition, the morals and the customs, the Greek deep faith. There are more than 350 churches to discover.

The main characteristics of the architecture of churches in Santorini, are the plasticity and the fineness. One of them is the two lines from Stones that stick out in the exterior surface of cupola. (The other two regard the interior architecture based in the power of light). Exceptional samples
of this peculiar architecture are many churches, temples and monasteries.
How to get here
Flying from Athens:
Olympic Airlines: (+30) 210 9666666
El.Venizelos: (+30) 210 3530000

By Ferry from the port of Piraeus
Piraeus port telephone::
(+30) 210 4226000-4,
(+30) 210 4511310-17

Useful telephones
Airport: (+30) 22860 28405
Port: (+30) 22860 22239
Police: (+30) 22860 22659
Health center: (+30) 22860 23123
Bus station: (+30) 22860 25404